About School of Health Sciences
About School of Health Sciences
About School of Health Sciences


Message from the Chairperson
The Study of Holistic Medicine for a Healthy Mind and Body
Health sciences is a field that contributes to the health of the individual and strives for improvement in social welfare. In other words, our concerns extend beyond the human body and into a person's mental condition and social surroundings. Studies include health maintenance, chronic disease prevention, diagnostic techniques, treatment, rehabilitation therapy, and even assisted living. Health sciences at Gunma University pursues medicine carried out as "team care" based on a system of cooperation. The School of Health Science is an academic institution devoted to the training of medical professionals for this modern form of holistic care.
The Four Principals and Goals of Health Sciences Education
The School of Health Sciences has four academic goals. The first is the training of professionals who will work with high levels of skills and expertise. The second is to train leaders who can promote and carry out team care and lead and manage its medical activities. Third, to train medical professionals who can function in international settings. Finally, to nurture academics and researchers to contribute to further development of academic systems devoted to health sciences.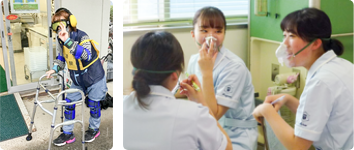 What We're Doing Right Now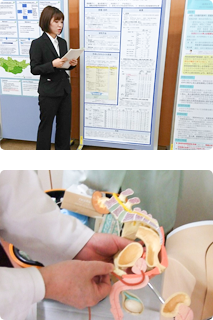 Since the school's beginning, the founding team has been promoting education in team medicine, and in 2013, we were designated as a WHO Collaborating Center. Gunma University was the first school in the world in the field of health science professional training. In 2014, the Ministry of Education, Culture, Sports, Science and Technology (MEXT) adapted our program "Gunma Prefecture-wide Education of Community-based Nursing Leaders," affectionately known as Team Gunma. In Japan's super-aging society, the School of Health Sciences is a leader in education of nursing professionals who are rooted in the local society and care for its residents from cradle to grave.
In 2014, we submitted a redefinition of our mission to MEXT, and were recognized as an excellent school in health sciences research and education.
Student International Exchange
The School of Health Sciences has established cooperative relationships with many schools in other countries, including Washington State University and Puget Sound University in the US and Mongolian National University of Medical Sciences. Students are encouraged to participate in exchange programs as a way to learn about different cultures and ideas, an important first step to becoming a globally oriented medical professional.